The problem all dog owners face is how fast our furry friends go through each toy. You bought it last month, and by this week, it's half-chewed off. There's a way we can make sure our dogs never go without, and our wallets save a few bucks: by making our own dog toys!
How to Make Braided Dog Toys?
You can easily make a braided dog toy out of a few old shirts. Cut 3 pieces about 20 inches long and 2-3 inches wide. Use different color shirts to make it look nicer. Start with a knot and braid. Make sure it's tight so that the toy has some resistance to canine teeth. Secure with a final knot.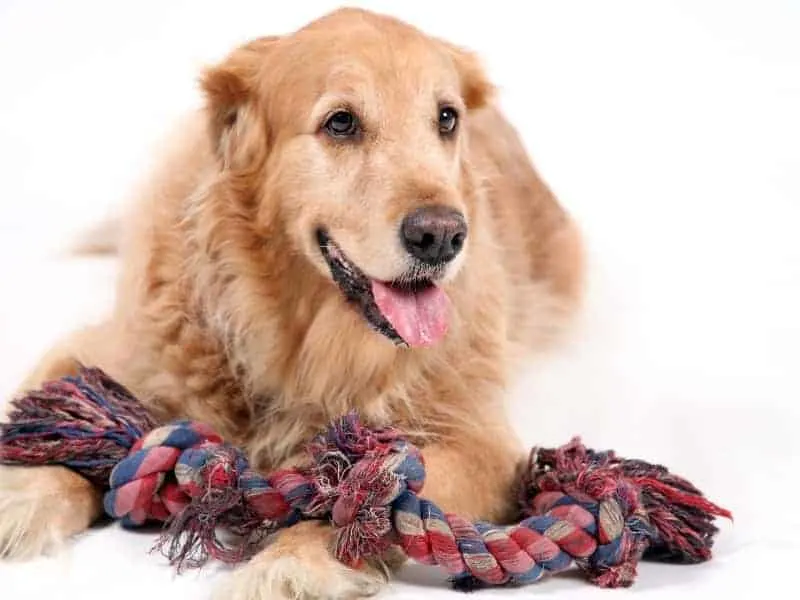 Braided dog toys are one of the easiest to make and costs pretty much nothing. This way, we can also make a recycling job out of shirts we can't donate.
When you're choosing the shirts, put some consideration to your dog. Softer fabrics are easier to handle while you're braiding. But for more resistance, such as when your dog is particularly prone to chewing, you might wanna go for stronger material.
Another plus for these dog toys is that we're making them out of washable cloth. So, even if your dog gets the toy drenched in saliva, you can wash it off easily.
2 Ways to Make DIY Braided Dog Toys
For both DIYs, you'll need the same listed materials:
Old cotton/fleece shirt (more shirts for more colors)
Scissors
(Optional) Pen/marker and ruler to make cutting easier
The Regular Braid Dog Toy
For the regular braid, it's even easier than braiding hair. Cut 3 strips from your t-shirts about 20 x 2 size.
You can make your job easier by cutting along the bottom hem of the t-shirt. Mark up 2 inches with a ruler and cut along the length or eyeball it approximately.
Then, take the strips and tie a knot, leaving some length at the end. The final product will look like it has one tassel at both ends.
An overhand knot works best. Gather the ends of the strip, making sure the lengths line up. Then, curl it into a small circle. Take the ends and bring them through the circle you just formed.
Onto the braiding, it's a three-strip braid. Lay them out separately and alternate from pulling the right and left ends over the piece that lands in the middle.
Make sure to pull tightly for each knot in the braid because we don't want it to come loose after some chewing. Then, secure it all with the last knot.
The 4-Strip Braid Dog Toy
You've most likely seen this one at the store. The reason is that it's a bit more secure than the three-strip one. So, it's better for bigger dogs. But don't worry it's as easy as the first way.
Cut 4 strips of cloth with your color of choice, about 40 x 2 size. Secure one end with an overhand knot before starting the braid.
First, layout your four strips in a '+' shape. Then, fold the top strip down over the right strip.
Fold the bottom strip up over the left strip. Next, take the right strip, and first, pull it over the top strip. Then, pull it under the bottom strip.
Similarly, make the left strip go over the bottom strip. Then, go under the top strip. You should start to see a square form from all the strips.
Now, you can pull all the ends out. You will see a knot. Keep repeating this knot, and you'll see a thick braid forming.
When you're satisfied with the length, finalize it with a knot.
How to Make Dog Toys Out of Paracord?
There are several ways to make a dog toy out of paracord. You can 4-way braid it to make a long chew toy. You can then tie the braid ends to form a ring toy. You can also make a ball-shaped toy with a knot called the 'monkey's fist'. Just learn to do a few knots, and you can easily make any of them.
What makes paracord so excellent for a dog toy is its durability. It can withstand a lot of strain.
Paracord is made of nylon, so it's different from the commonly seen rope that's made of polypropene. There isn't a whole lot of difference in appearance. But paracord can hold huge amounts of weight because of its special design composed of layers.
So, it's a great option for dogs who chew and rip apart their toys. It will last you a long time.
Make DIY Dog Toy Out of Paracord
What you'll need:
Paracord
Scissors
Zip tie or pin or clip
Candle or lighter
Step 1: Cut two pieces of paracord of the same length.
You can use different colors to make it appear brighter. The length should be about 3 times what you want the toy's length to be. Keep extra space at both ends for knots.
Step 2: Line up the ends and find the middle, then overlap them in a plus sign shape.
The middle of the two ends should form an intersection.
Step 3: Use a pin or zip tie to temporarily secure the cross shape.
This will be one end of your toy and the starting point of our braid.
Step 4: Gather the rope in one fist, so the 4 ends are splayed out.
Make the formation of the plus shape clear to make the braiding easier.
Step 5: Make a 4-way braid.
To make a 4-way braid, you need to press down on one rope and loop it around your thumb. Then, rest that rope over the one next to it, and press down with your thumb over the intersection.
Repeat the loops until you reach the fourth rope. You have to pull the fourth rope over the first loop.
Step 6: Pull all the ends out, and repeat the braided knot.
Keep tightening the loops until you end up with a knot. Then, you can braid again.
Step 7: Once satisfied with the length, fold in the ends.
Since it's a rope, just poke in the ends through the knots of your braid. Cut the excess off. Make sure you remember the placement of this area because you'll need it in the next step.
Step 8: Burn off the ends.
Using a small flame, burn off the ends so that it's smooth and no thin strands are poking out.
How to Make Dog Toys Out of Rope?
The easiest way to make a dog toy out of rope is to do a braid or a monkey's fist knot. By tying three rope pieces into a braid, you can make a durable and inexpensive chew toy for your dog. A monkey's fist knot will give you a ball toy that's fun for both chewing and fetch.
The rope is a great material for dog toys when organic fiber cloth isn't lasting long under your canine's teeth. It's inexpensive, and the toy you end up with will be durable. It also floats!
But remain cautioned about the fact that you need to supervise when your dog plays with a rope toy if he/she's particularly prone to biting it off.
Rope in its entirety isn't dangerous for your dog. But the strands it's made of will poke out after some chewing. This can be a choking hazard. So, make sure when you're making the toy, you burn off the ends. And while playing, keep an eye on the dog.
Things you'll need:
Rope
Scissors
Candle or lighter
Make DIY Dog Toy Out of Rope:
Step 1: Take a long length of rope of about 10 feet.
Step 2: Make a monkey's fist knot at the center.
Step 3: Make sure to burn the ends so that no strands are sticking out.
Step 4: You can cut off one end if you want to jangle it over your dog to bite or leave it as is.
How to Make Dog Toys Out of Yarn?
To make dog toys out of yarn, you need to group up your yarn. Twist about 20-30 cuts of yarn of desired length to make one section. Then, repeat the process twice, so you end up with 3 sections. Now, you can braid these. Make two more braided yarn lengths. Braid these bigger sections for a chew toy.
Yarn is soft and easy to work with, even if it takes you a few extra steps to get there. Since the yarn is so thin, you need to make braids first. Then make braids out of the smaller braids to make a toy sustainable enough for your dog.
Yarn isn't the most durable, so it's best for smaller or less excitable dogs.
Things you'll need:
Make DIY Dog Toy Out of Yarn:
Step 1: Cut thin strips of the same length of yarn and twine.
You need 15 yarn pieces and 36 twine pieces. The length should be twice your end product.
Step 2: Line them up and tie a knot at one end.
Using an overhand knot, tie these and leave only a small space.
Now, make one section of yarn with the 15 pieces. Halve the twine pieces to make two twine sections.
Step 4: Braid using the three sections and secure with a knot.
Make a simple three-part braid.
Step 5: Now, take one end and knot it a few inches above the center.
It should make one loop. This should be big enough for your fingers to hold.
Step 6: Make another loop on the other end big enough for your dog's jaw.
Using the same method, knot another loop. This will be the 'chew' part of your dog's toy.
Dogs are forever best friends, but their toys go by so fast. So, to keep our dogs happy as well as our wallets, we can get creative with a few inexpensive materials like old t-shirts, rope, yarn, etc. See for yourself by trying out some of these easy DIYs!
Frequently Asked Questions: