Your furry babies love chomping on their playmates. It's a fun activity for them and makes their teeth and jaws stronger. Therefore, watching your pup biting on those dog toys, it's kind of obvious for you to think over edible dog toys that are harmless for your beloved doggy.
Are Dog Toys Edible?
Yes, few dog toys are considered edible. Rubber toys, tennis balls, rope toys, etc. are more convincing as edible dog toys. But a good chew toy for a dog must-have features like proper hardness, durability, coating, washability, and perfect shape and size according to the mouth size of your dog.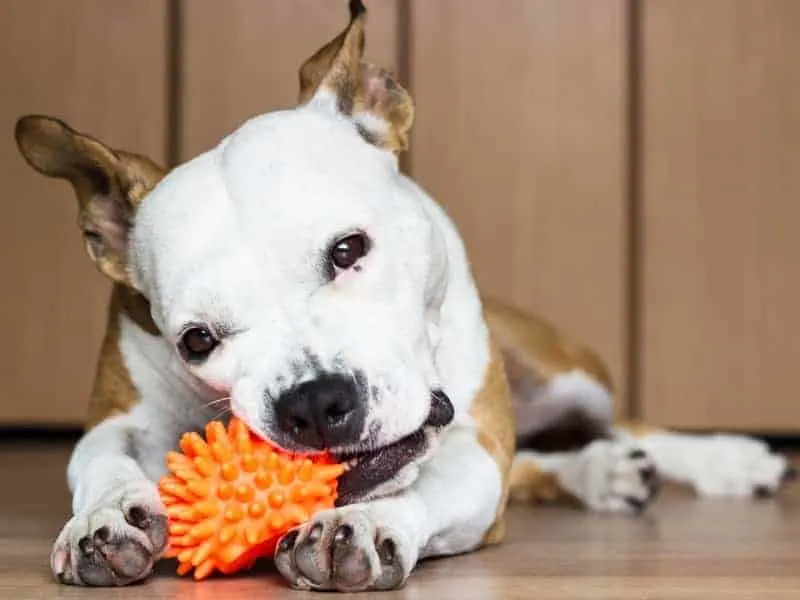 In recent times edible dog toys are in demand so these are made of high-quality chewable rubber and rope. These dog toys have successfully passed the test of stability, hardness, wimpiness, hard coating, proper size, and washability.
Also, these toys don't contain any toxic elements, so it's safe for dogs. Therefore, dog toys with all these features are known as edible dog toys.
Proper sized tennis balls can be edible dog toys too. In that case, pay close attention to the durability as well as the ball's size and your dog's mouth size. Size is a primary feature of edible dog toys so that dogs don't swallow the toys.
What Are Edible Toys Made Out Of?
Edible toys are mainly made for dogs because nibbling on a chew toy is a necessary activity for those fur babies to make teeth and jaw strong. But many chew toys can have toxic materials that are highly dangerous for your pup's health.
Hence, having knowledge of edible toys is essential. For your awareness materials of edible toys are listed below.
Rubber
Rubber is the most common material for making edible/chew dog toys. The rubber has to be a strong one with high durability so that it doesn't get ripped when your pup is gnawing on it.
Sometimes, these toys are hollowed for hiding treats in them. Therefore, rubber-made toys are edible as well as entertaining.
Wood
Another material that is non-toxic is a softer wood. These wooden chew toys are safer and don't contain flavourful coatings.
Rather, these are coated in a vegetable-based colorful coating that doesn't upset the tummy of your fur friend. Wooden edible toys are the best option for puppies to munch on.
Rawhide
Rawhide is often correlated to edible dog toys. It is a hefty kind of edible dog toy and flexible. So it will take months for a dog to destroy it. It is made of harmless edible animal skin.
Rope
Rope is another common material for making edible dog toys. Durable and sturdy ropes are used to make edible leaps and bounds rope tug toys. Because it is hard for your chew maniac dogs to rip those toys apart.
Plush
Although plush is not a good option for making edible chew toys since dogs can shred those into pieces. But flexible plush toys with internal squeakers are quite durable and chew toys can be made out of them.
How Do You Make Homemade Dog Chew Toys?
Your furry best friend is more likely to chew on the toys all time, and as a result, those toys get destroyed in no time. Therefore, buying new toys can often pressurize your wallet a little bit. Hence, the best solution is to try making fun of chew dog toys at home easily.
You better not worry, thinking it might be a tough thing to do. Well no, making homemade chew toys are super easy; all you need is some materials that are already available at your home.
For your convenience two types of homemade chew toys making procedure has been shown below. If you follow these steps thoroughly, you can make two types of chew toys just sitting on your couch.
DIY Jeans Tug Toy
You only will be needing a pair of super-strong jeans that your pups can not shred into pieces easily. And for a more creative tug toy, you may need a tennis ball
Step 1: Find a pair of durable jeans
You can use your old jeans but make sure those are in very good condition.
Step 2: Cut it into 3/4 strips
Once you got your material, you need to cut it into three or four long and thick strips. If you want to make the DIY chew toy more solid, four thick and long strips are a better option.
Step 3: Knot it and braid it
After getting the strips, tie a knot at one end and start braiding as per your preferred braiding/knitting style. And then tie the other end so that your pup is unable to open it while chewing on it.
Step 4: Add a tennis ball
If you want to make this tug toy a little fancier, just add a tennis ball. For that, you are required to make two holes and add the ball to any end before tying a knot.
Step 5: Knot the strands
This is an optional step, but if you tie the strands left out after tying knots at both ends, it will be extra safe as your dog can't tear those stands into pieces.
Woven Rope Bone Dog Toy
For making this entertaining chew dog toy, all you need some materials that you can easily find in the backyard of your house.
Materials
Cotton ropes
Lacrosse balls
Cardboard
Duct tape
But you must choose extra intense ropes because ropes are likely to be shredded into pieces easily, and if your dog swallows those, it's highly harmful to its intestines.
Step 1: Collect suitable rope
Cotton rope of 3/8 inch size perfect for extra large pups and 1/8 inch size is suitable for baby pups. So depending on your dog's size, you can choose any size of ropes between these two sizes.
Step 2: Choose the correct sized lacrosse balls
You will be needing two lacrosse balls, so choose the proper size ones. Don't choose tennis balls because those are bigger.
Step 3: Choose a knot grid and make a mandrel
Download your preferred knot grid from the internet and print it out. Then cut the cardboard box and roll it up as long as it not about 2inches in diameter. Then nicely wrap it up with duct tape.
You must ensure that the knot grid design can be draped around so that the ends meet up and then tape the knot grid design as well as push nails into the mandrel.
Step 4: Tie the knot
Now that you are ready with your mandrel, you can start weaving the rope in between the nails as it has been instructed in the knot grid design.
Step 5: Double up the knot
Once you have tied knots around the mandrel, take out the pins and tie the knots again to make it thick and enduring.
Step 6: Cover up the lacrosse balls
Now take off the knot from the mandrel and insert lacrosse balls into both sides of the knot. And start weaving around the balls naturally.
Step 7: Finish the weaving with a third pass
At last, finish the woven rope bone chew toy with the last round of knitting to fasten everything. And there you've successfully made a cost-effective fun chew toy for your dog.
Are Dog Toys Safe To Eat?
Dog toys are safe to chew on as long as you have chosen the dog toys considering the feature, materials, and your dog's chewing style.
Some dogs are shredders, some are inhalers, and some are lovers, so you must buy rubber toys, role toys, sturdy plush toys, and tennis balls. These dog toys are safe to eat.
Are Dog Toys Toxic?
Most of the time dog toys are manufactured by maintaining all safety for pups. But toxic elements can be found in dog toys upon testing.
Nylabone chew toys have received a warning for not being a harmless dog toy. So, you always must look into materials and toxicity rates before buying dog toys.
What Are Safe Things For Dogs To Chew On?
Your beloved dog can munch on toys like rubber chew toys, and the brand Kong has been supplying the most reliable rubber chew toy "Wobbler" for your dog. Also, West Paw's Qwizi is another safe toy for your pups to gnawing on.
If you don't want to spend money on buying these toys, you can easily create your own DIY dog toys out of things around your house, which are safe materials for them. In this case, rope toys are the best option, or buy tennis balls for your dog to gnaw on.
Is The Stuffing In Dog Toys Toxic?
The stuffing in plush toys or stuffed toys is toxic for dogs. Generally, these types of toys have cotton stuffing or foam stuffing. So if your dog by any chance swallows those, it will risk the intestines and digestive system of your dogs.
Can Dog Toys Make Dogs Sick?
Dog toys containing chemicals, chlorine, lead, bromine, PVC, and others are highly dangerous for your dog's health. Sometimes can even lead to severe health issues like liver and kidney damage.
Also, coated dog toys like pig ears, cow ears are also harmful to dogs and can make them sick. These toys contain flavors that cause digestive problems for your dogs.
Know more about What Dog Toys Can Make Them Sick?
Considering all factors these days, most of the dog toys are edible and safe for your dogs. Yet, you must check all features and materials before buying. Because your pup loves to munch on these toys and its safety is the foremost concern.
Frequently Asked Questions:
Is dog toy stuffing dangerous?
How to teach dog not to destroy toys?