Ever looked at your pet dog and wonder how precious it looks while sleeping on its own comfortable bed? Then you must have wondered what your furry little companions' bed is made of.
A dog bed is very comfortable, convenient, and cute. The price range varies a lot depending on the material, size and design. But with the correct stuffing, it is possible to make it yourself.
What is inside dog beds?
Any type of foam can be stuffed inside a dog bed. To make it comfortable, foam chips, sheets, pellets, or memory foam is used as well. For a DIY version, one can use old clothes, t-shirts, towels, socks, or any soft piece of clothes. Basically, any soft fabric can be used to stuff a dog bed.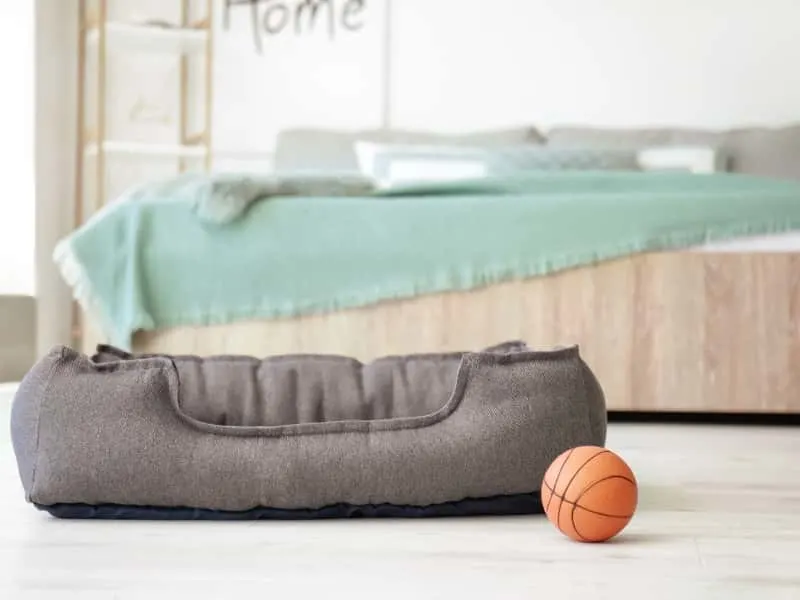 Dog beds are usually fabrics stuffed with soft material for the dog to sleep, which is a bit higher than the floor or ground. It gives the dogs a comfortable, warm place to sleep. The softer the stuffing, the better for the dog to get his perfect sleep. Let's face it; everyone deserves a fluffy bed.
The inside stuffing does not always depend on the design and size. Sometimes the health issues of the pet become an important concern. Easily washable and replaceable fillers should be used for a bed that a puppy or younger dog will use. For the older and trained dogs, a firm filling is preferable.
The outside or the top part of the dog bed is usually a thick fabric. A mattress topper is commonly used for such beds as it gives more warmth and is cozier than a regular pillow or cushion.
Any soft and usable fabric can be used to fill a dog bed, be it new or old. As long as the bed is comfortable for the pet to sleep and lay in, it works.
What do you stuff a dog bed with?
There are many materials that can be used to stuff a dog bed with. But mostly fabric and fibers are used. In general, any comfortable material or soft piece of clothing or fabric is a good choice for the filler. Some of the commonly used materials are-
Fiber/Polyester
Fiber is the most common material for any animal bed stuffing. The reason is the softness and added bulk without much firmness give more comfort. This reasonable material is easy to use and, as it is available in the market, is considered the best material for such pet beds.
Wood Chips
These chips are the best when it comes to repelling fleas and size concerns. These chips have selected aromas, and this helps keep the dog odor in check. The chips are inexpensive and available in the local market. But they are not soft enough for the perfect comfort.
Recycled clothing
Any sort of soft clothes can be used for the most comfort in any dog bedding. And as the clothing has your smell in it, the scent gives your comfort and the feeling that you are always with them. Sock, towels, t-shirts, or any sort of clothing can be used for this DIY dog bed.
Foam
There are many types of foams available, and different types of foams are used for different purposes. Just like the chips, the foam adds extra support with more softness. The foams also allow a good shape for the dogs to lay in.
What is the best stuffing for a dog bed?
With the many options at hand, it can be confusing to find the best stuffing for your furry friend. Based on the major factors like price, availability, and most importantly, comfort, it can be said that foams are the best stuffing for a dog bed.
Foams come in many designs and shapes, which is easily usable for any dog bed. The soft foam takes the shape of your pet every time it lays on it, which makes it cozier for the dog. This soft and supportive material is very reasonable as well.
There are many types of foams for different purposes. For example, a foam sheet offers more support than any other material, which makes it ideal for dogs dealing with arthritis or dogs who are recovering from surgery.
What is an orthopedic dog bed made of?
An orthopedic dog bed is for the dogs who need extra support in the hips and elbows, as well as the joints and bones. Dogs suffering from arthritis, hip dysplasia, or any other joint issues need this type of bed to keep their bones in support. Some puppies with minor bone and joint issues can use it too.
An orthopedic dog uses firm materials for the extra support. Usually, thick foams are used these types of beds. A foam sheet can also be used as it keeps the firm shape and adds more support.
The stuffing of the orthopedic dog beds are not usually reasonable, and the shape of the dog beds are also a major concern.
Can you use a pillow as a dog bed?
With the right shape, size, and comfort, a pillow can easily be used as a god bed. Pillows have polyester stuffing, which are perfect for the soft comfort for a dog to sleep on.
Pillows are easy to clean and are easily available. They come in many shapes and sizes, which gives you a wide range to choose the perfect alternative of a bed for your companion.
A dog might prefer a specific type of pillow. This depends on the comfort and softness of the pillow itself. If your dog prefers a cozy place to sleep, better to go for soft cotton pillows.
If you are looking for an alternative to your dog bed, it is best to go for the cushions with a thick cover. The cozier and warmer the pillow, the better for your dog to snuggle in.
Can you wash a dog bed with stuffing?
Not every stuffing is easily washable. Some materials can be washed on a regular basis as the drying process is rather easy. While some materials shrink and take time to get back into shape.
Foams and chips take a longer time to dry off. While fabric-based stuffing is easy to clean and dry pretty easily.
A dog bed should be washed from time to time as the odor catches on very quickly, and there can be a risk of a flea attack. But the washing part can be difficult if you do not know the material and how to wash the material.
If you are looking to wash your dog bed, you should keep the following things in mind-
It is best to set the power of the washing machine to low.
Use very little detergent.
By placing the stuffing in a laundry bag or mesh, the shape of the material can be kept more firm.
In case of foam or wood chips, go for the air dry or low heat drying method in the washing machine.
If you keep these things in mind and be a bit careful while washing, you can keep your dog bed clean without much loss of shape and firmness.
How do you make a dog bed?
Sometimes it is easier to make a dog bed all by yourself if you have the materials in your hands. Or sometimes you just want your special friend to have a unique bed for himself because s/he is a one-of-a-kind friend in your life.
To make a customized bed for your furry friend, you must first choose and gather the materials-
Type of cover and mattress topper, this fabric should be thick; the design however, depends on your choice.
Sewing kit or sewing machine.
Filing of your choice; best use foam to get the desired shape easily.
Zipper.
After choosing and gathering the materials, the following guidelines should be followed to get the comfiest and coziest bed-
Step 1: Gather the materials and the tools.
Step 2: Sew a pillowcase with the thick fabric of your choice, keeping one side open.
Step 3: Fill the shape with your choice of material.
Step 4: Add the zipper.
Step 5: Shape your bed and add the mattress topper.
And there you have your DIY dog bed for your special furry companion. A special pillow for your special friend that is made with your love and warmth.
Your special furry friend deserves a special bed to sleep peacefully. This is why the materials and stuffing are very much important when you go to choose a bed.
Though nothing can compare to the warmth of sleeping in your arms for your companion, a comfier bed can help him sleep and dream of playing with you in peace.
Frequently Asked Questions:
Does washing dog bedding remove fleas?