If you own a husky, you know how naughty they are. These dogs are hyperactive and always busy with something.
Huskies can be pretty large and heavyweight too. Like all other animals, they love a comfortable bed to sleep in.
An interesting thing is that huskies are destructive too. Even they chew their beds and can destroy it within a few days.
That's why you always need to pick beds which are not just comfortable but durable, washable, and breathable. So, let us go for details.
Do huskies like dog beds?
Huskies love dog beds with a secure shelter. They are naturally warm animals and can comfortably sleep on snow. When they get a shelter with a warm dog bed, they love the comfort and feel protected. Huskies enjoy their time a lot while sleeping or relaxing on a bed.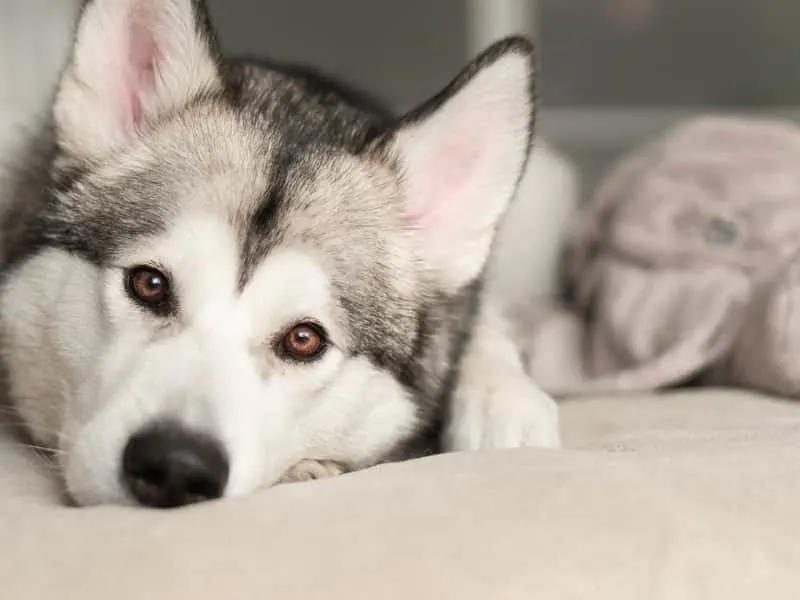 Top 6 types of beds that huskies like
So, if you are searching for beds for your husky, then here we are bringing to you the best types that will not only secure safety but also comfort for your dog.
But at first, carefully note down the size, height, weight, age, and sleeping position of your dog. The measurements will help you to make a more accurate choice.
Pillow bed
Pillow dog beds are pretty affordable and best for dogs who sleep in a stretched-out position. You can also find expensive options but the affordable ones are the best choice.
These beds are not that durable but it guarantees comfort. Pillow beds are suitable for small and less aggressive huskies. Otherwise, the dogs will destroy it within a few days especially the heavy chewers.
As a husky owner, you know that huskies are prone to arthritics and back pain. But pillow beds can save your husky from that, especially the older ones.
Remember one thing, with machine wash, the durability of pillow beds is compromised. Thus, whenever you are buying one, make sure that there are some extra covers in the packet.
These bags are also available in bean bag style. So do not get confused. Bean beds are cozier than pillow beds as they are excessively stuffed with soft foam or cotton.
Cave bed
These beds ensure a protective and warm feeling in a cave shape. Cave-style beds are perfect for small dogs who weigh around 20 to 25 pounds.
These beds assure luxurious comfort for huskies as they have orthopedic foam and cave shaped burrow that ensures a warm feeling.
These are premium quality beds and also charge a premium. You can easily wash them with machines. If your dog is a heavy chewer, they cannot do much harm to the bed's materials.
Mostly, in cave style beds the inner foams are coated with synthetic lamb wool, which is the best deal for older and arthritic dogs.
Nest bed
These are best for dogs who like to stay warm while resting, sleeping, or relaxing.
Nest beds have the power to absorb heat with high sides, and the dogs remain warm at night while sleeping.
These are pretty budget-friendly and stylish. You can carry them anywhere because of its Lightness.
If you are obsessed with cleaning stuff, then go with nest beds. Just remove the centre pillow and put it into a washing machine. You will find it neat and clean.
Hammock
These beds are preferable for owners who are searching for a sturdy and durable bed. They are made out of solid fabrics and very difficult to destroy.
The problem is that these beds are not stuffed with sufficient inner foam or padding. That can make your dog feel uncomfortable.
But these are budget-friendly and also have the elevation feature. The best part is that you can carry them anywhere and wash them quickly.
Donut-style
Just guess the shape of this type of bed? Yes, probably you all have guessed it right.
These beds are having a round shape with high sides. There is space for the dog at the center of the bed, and it just looks like a big doughnut.
Your dog can enter it from a door and sleep comfortably. These are best for small huskies or puppies who love to sleep in a curled-up position.
So, if you have a small husky, go for a Donut-shaped bed.
Bolster-type
These beds are commonly known as elevated beds. They also look like mini sofas.
Bolster beds are pretty big in size and can hold large-sized dogs. If you are purchasing one, then think about the space first.
These beds are long-lasting as they are made out of strong and durable materials such as ballistic ripstop nylon and polyester fiber.
They are not hard to find in the market. It is best for huskies who are heavy chewers. If your husky is very aggressive, then these beds have your back.
As they are made out of premium fabrics, bolster beds actually come with a premium price tag. But the comfort it assures is worth that money.
These are all the types of beds that you can choose from. But remember one thing before buying any bed, check the size, fabrics, internals, and covers properly. These are prerequisites to assure durability, washability, and comfort of the bed.
Read more about, Do Dogs Like Dog Beds?
What size bed does a husky need?
When you are looking forward to buying a bed for your husky, you have to be careful about its size. It is pretty essential as the right shape will secure enough comfort for your pet.
To pick the right size, you have to consider the height, weight, and sleeping position of the dog.
In the market, there are beds available in the following sizes. So, here comes your responsibility to pick a suitable one for your pet.
Extra-small
This size is perfect for a husky, which is small and weighs around 20 pounds. The bed is around 32 to 36 inches round and 16*21 inches rectangular.
Small
If your dog is slightly bigger than the small size and weighs around 25 to 30 pounds, then small size beds are perfect for you.
The size is quite similar to extra small ones as these are around 30-to-36-inch round and 18*23 inches rectangular in shape.
Medium
Medium-sized beds can take weight up to 25 to 45 pounds. These beds are 21*28 inches rectangular in shape and around 36 to 45 inches round.
Large
If your husky weighs between 50 to 70 pounds, then pick a large size bed. Large-sized beds are 45 to 54 inches round and 24*36 inches rectangular in shape.
Extra large
Your husky weighs more than 70 pounds! Then, an extra-large bed is the only option that you have.
These beds are around 45 to 52 inches round and 28*43 inches rectangular.
These are all the information that you need to pick the right size bed for your husky. So, gift a comfortable and durable bed to your beloved pet.
Where do Huskies like to sleep?
Naturally, huskies are warm animals. They can just dig a hole in the snow and sleep on a snowy surface.
Does it mean huskies like cold weather? The answer is no! They love to sleep in a protective shelter with a warm bed.
In winter, they follow a method call Siberian Swirl. They use their furry tail to cover the entire body so that they can stay warm.
When they are extremely confident, or with a reliable person, they just lay on their back and keep their legs on air.
They can manage to sleep anywhere, even in extreme cold but feel safe when they have a warm bed and a shelter.
What are some indestructible dog beds for husky?
Is it the case that you have bought numerous dog beds, but those are damaged within a few days? And now you are frustrated and searching for some indestructible ones.
We know that huskies are pretty mischievous and aggressive. They can easily tear beds a few within days.
That's why the beds should be made out of strong materials such as ripstop ballistic nylon, HDPE material, 1680D ballistic nylon, Polyester fiber, etcetera.
Moreover, it also needs to be waterproof, chew-proof, dustproof, digs resistant, and lightweight.
For longer sustainability, the beds need to be surrounded by aluminum or metal frames. Also, to ensure comfort, memory foam is a must.
It may be a question to you that how can you get all these features only in one bed. Don't worry. We understand your feelings.
That's why we have shortlisted some of the best indestructible dog beds for you.
PetFusion Large Dog Bed
K9 Ballistics Rectangle Dog Bed
Coolaroo Classic Elevated Dog Bed
K9 Ballistics Elevated Dog Bed
Frisco Steel-Framed Dog Bed
Karunda indestructible Dog Bed
Niiyoh indestructible Dog Mat
Does my husky need dog bed sheets?
It is not mandatory to entertain your dog with bedsheets. It doesn't make a huge difference, but if you are using bedsheets, then the dog will feel more comfortable.
Also, bed sheets will help you to maintain cleanliness. You will regularly find dog hair sticking on the bed, and it is difficult to clean. So, use bedsheets, change them whenever you want, and wash them with machine.
Siberian huskies are prone to arthritis and hip dysplasia. Thus, it is better to use bedsheets as they will secure your pet's better health by assuring comfort.
Pets are just like our family members. If you own one, you know how blissful they are. Having a husky in your house beautifies your life as it will provide you, selfless love.
As an owner, it is your responsibility to take care of its comfort and security. This guide will help you to know more about the type of beds that are best for your dog.
So read this article, know more about your dog's comfort, and become a responsible owner.
Frequently Asked Questions:
Does washing dog bedding remove fleas?