Dogs usually sleep between 12 to 18 hours a day, depending on how old they are. Seeing how they spend a lot of their daily time sleeping, a dog bed may be a piece of necessary pet furniture. How much a dog likes their beds' hinges on what requirements they fulfill.
Do dogs like dog beds?
Yes, dogs like their dog beds since it gives them a space of comfort and relaxation. Additionally, a dog bed is a necessary place that they can call their own. It also inspires them to sleep better, which in turn improves their mood and memory. They can also be a place of healing for aching bones.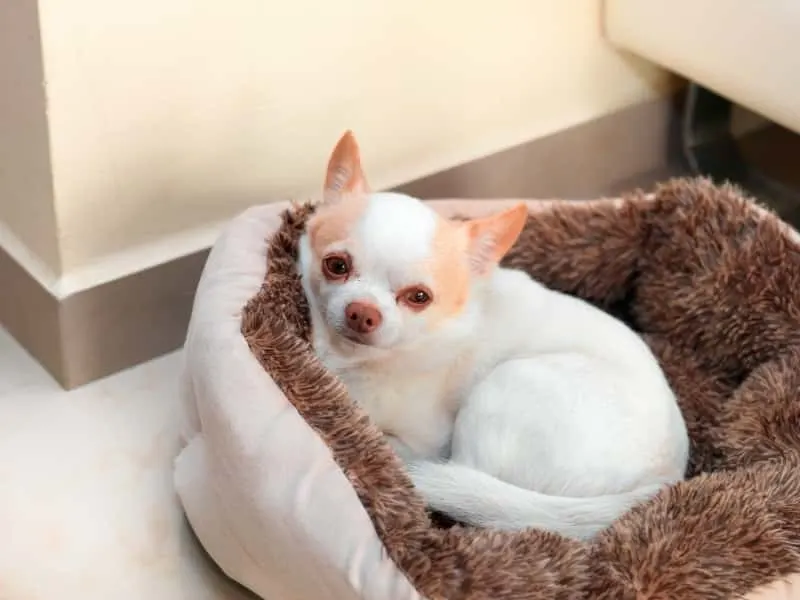 Giving your dog a comfortable bed they can sleep on provides relaxation and rejuvenation after a day of hard work and play. Dog beds come in all shapes and sizes, some being made just to offer relief to old, ailing breeds.
What type of bed do dogs prefer?
There are simple dog beds that can just your old pillows or fancy ones that have iron frames with lace details. There something for everyone, no matter what the budget, taste, style, or décor might be.
The basic styles of dog beds involve nesting, cuddler or raised dog beds, etc. There is also an abundance of orthopedic beds for dogs with specialized needs.
Nesting or snuggle beds
They look like beanbag chairs, which smaller dogs like to curl up in.
Cuddler or nest beds
These are mainly known as the traditional dog beds, being oval in shape. The center pillow can be removed and replaced and so these beds are good for indoor and outdoor use simultaneously. Usually preferred by larger dogs.
Donut beds
This kind of bed has a raised plush rim or edge around it, kind of like nest beds. They are made of extremely soft material, usually round or oval in shape. Perfect for dogs that like to curl up and get cozy.
Kennel or crate beds
They can be practical yet comfortable, which is perfect for kennel training. Some manufacturers also make sure they are waterproof, so they are easier to clean. Kennel/crate beds are suitable for all breeds, especially older or bony dogs.
Raised dog beds
Raised beds combine all kinds of dog beds but make them elevated. The frame can be of any material, so you can match your dog bed with the other furniture in your room. People prefer raised dog beds because they make a gap between the cold, hard floor and the bed, so bugs are avoidable.
Covered or hooded dog beds
These are great for small or shy dogs that like to hide and take their time to socialize. They also provide a place for dogs to snuggle up and give some privacy while they are it. They look like small houses or tents, with plush bedding and wicker baskets.
Temperature-controlled beds
There are both heated and cooled dog beds that help regulate body temperatures. They also provide great comfort to senior dogs with aching joints as well as be a source of relief in hot or cold seasons.
Special or Orthopedic beds
Designed for dogs suffering from arthritis or other orthopedic issues, special dog beds lessen the pain of your furry friend. They are usually made of top-quality foam, which is also very thick. Such density provides extra support, so the stress on joints is lessened by preventing pressure on sores and calluses.
Read more about, How to Make a Dog Bed with Sides?
There are other, even more customized dog bed types, but these are the most common options available in most pet stores.
Why doesn't my dog like dog beds?
There could be a few reasons why your dog does not like the bed you got them after much consideration. The reasons could be that it is too hot or cold, which turns out to be uncomfortable for your companion.
The bed or the cushion could also be very rough for the dog, so they will end up avoiding it.
For example, a senior or bony dog with joint pains will not prefer tough beds. On the other hand, if it is too plush, old dogs might have trouble getting in and out of them.
This is obvious, but another reason why your dog does not like the bed is that you got the wrong size for them. They might have outgrown them, so it turns out to be uncomfortable to sleep in a bed where they are hanging off of the edges. Some dogs also do not like their beds to be too big for their size.
Another unconventional reason for your dog not to like the bed given is because they are simply just too used to the floor. This is especially prevalent in new pups or dogs who have always slept on the floor and have never had a bed.
Last but certainly not least, the other reason for your dog to not like the bed is that it is in the wrong spot. Dogs are very sociable creatures that more often than not prefer to be around their masters. So, to them, it seems like a punishment to be separated from the group, which is why they reject their beds.
Do dogs really need dog beds?
Yes, dogs really do need their own dog beds.
Even if they are nesting, sociable creatures, it is inevitable for them to want a spot for their own. It is easier for them to relax if they have a place that is dedicated to them.
When considering how dogs get joint pains as they age, a supportive dog bed is absolutely necessary to provide some solace and cushion as they rest.
A dog bed is proven to provide a good night's rest, which in turn improves the dog's memory as well. A well-rested dog tends to be smarter, more responsive, and also learn tricks faster.
Since most dog beds are portable, this means they can be taken with you when traveling so that your dog can feel relaxed with lessened anxiety.
Considering how the pros definitely outweigh the cons, it is advised to give your dog a bed they can call their own.
Do dogs prefer hard or soft beds?
Each dog has a different preference based on their physical attributes, bone and joint health, as well as their age and weight. Some dogs tend to like cooler floors whilst others would prefer a warmer, softer bed.
Read more about, What type of beds Huskies like?
There is no "one size fits all" approach when it comes to selecting beds for your dog. Smaller, younger dogs may prefer softer beds, whereas older, senior dogs will opt for beds that provide support.
The weather also determines what the dog might like. Soft beds are comfortable, yes, but they also gather heat, and sometimes that becomes unbearable in the summer. In contrast, hard beds tend to stay cool, so while they are welcomed during summer, they become unloved in the winter.
It truly depends on the dog, whether they like hard or soft beds, at the end of the day.
How often should I get my dog a new bed?
Replacing or getting your dog a new bed depends on the state it is in and how your dog is treating it. If your dog is retreating from the bed, it's a sign for replacement.
It could be because it is dirty, but mostly they reject their old beds if they become painful or uncomfortable to be in.
High-quality beds tend to last for years, as they are easy to handle and clean, as well as remain long-lasting. They also tend to look nicer. Similarly, cheaper models may result in replacements needed each year, if not seasons, as they get battered and tattered very easily.
The rule of thumb is to replace and get a new bed whenever the dog ignores the bed for weeks, despite regular cleaning. Most times, replacing the cushion gets the job done.
A dog bed is an item of necessary pet furniture for it provides comfort, relaxation, and support for your furry friend, no matter what age, weight, or breed they are. Dog beds also become a place your pet can call their own, therefore being a place that is a source of calm and belonging.
The vast spectrum of bed types ensures there is one specifically made for yours, which will inevitably make their lives, sleep, and overall mood better.
Frequently Asked Questions:
Does washing dog bedding remove fleas?